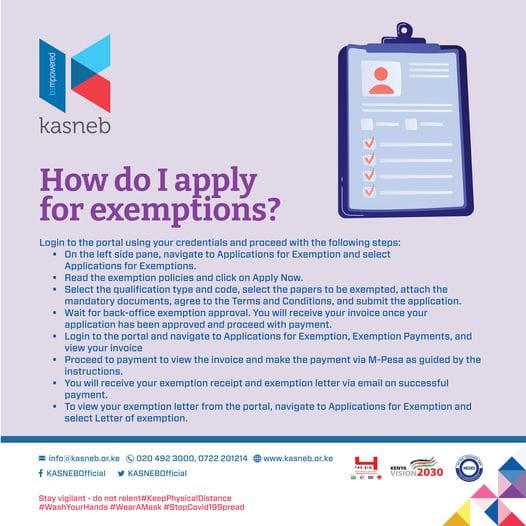 How do I apply for KASNEB Exemptions?
To apply for KASNEB exemptions, send scanned copies of your degree certificate and transcripts from first year to fourth year to info@kasneb.or.ke and indicate the units that you need to be exempted.
After review, you will be emailed on the status of your application and the way forward.
Exemptions to holders of University Degrees and other non-KASNEB qualifications -Click Here
Exemptions granted to KASNEB professional examinations graduates who would wish to pursue other KASNEB courses are as follows:
(a) CPA graduates
(i) Exemptions in CS
Commercial Law
Business Communication
Economics
Principles of Accounting
Public Finance and Taxation
Company Law
Financial Management
Principles and Practice of Management
Management Information Systems
(ii) Exemptions in CICT
Introduction to Computing
Entrepreneurship and Communication
Principles of Accounting
Strategy, Governance and Ethics
(iii) Exemptions in CIFA
Financial Accounting
Financial Mathematics
Entrepreneurship and Communication
Economics
Public Finance and Taxation
Corporate Finance
Financial Statements Analysis
Quantitative Analysis
Strategy, Governance and Ethics
(iv) Exemptions in CCP
Commercial Law
Entrepreneurship and Communication
Economics
Principles of Accounting
Public Finance and Taxation
Company Law
Financial Management
Management Information Systems
Quantitative Analysis
Strategy, Governance and Ethics
(b) CS/CPS graduates
(i) Exemptions in CPA
Financial Accounting
Commercial Law
Entrepreneurship and Communication
Economics
Public Finance and Taxation
Company Law
Financial Management
Management Information Systems
Strategy, Governance and Ethics
(ii) Exemptions in CICT
Introduction to Computing
Entrepreneurship and Communication
Principles of Accounting
Strategy, Governance and Ethics
(iii) Exemptions in CIFA
Financial Accounting
Entrepreneurship and Communication
Economics
Public Finance and Taxation
Regulation of Financial Markets
Corporate Finance
Strategy, Governance and Ethics
(iv) Exemptions in CCP
Commercial Law
Entrepreneurship and Communication
Economics
Principles of Accounting
Public Finance and Taxation
Company Law
Financial Management
Management Information Systems
Strategy, Governance and Ethics
(c) CICT graduates
(i) Exemptions in CPA
Financial Accounting
Entrepreneurship and Communication
Management Information Systems
Strategy, Governance and Ethics
(ii) Exemptions in CS
Business Communication
Principles of Accounting
Principles and Practice of Management
Management Information Systems
(iii) Exemptions in CIFA
Financial Accounting
Entrepreneurship and Communication
Strategy, Governance and Ethics
(iv) Exemptions in CCP
Entrepreneurship and Communication
Principles of Accounting
Management Information Systems
Strategy, Governance and Ethics
(d) CIFA Graduates
(i) Exemptions in CPA
Financial Accounting
Entrepreneurship and Communication
Economics
Public Finance and Taxation
Financial Management
Management Information Systems
Quantitative Analysis
Strategy, Governance and Ethics
Advanced Financial Management
(ii) Exemptions in CS
Business Communication
Economics
Principles of Accounting
Public Finance and Taxation
Financial Management
Principles and Practice of Management
Management Information Systems
Financial Markets Law
(iii) Exemptions in CICT
Introduction to Computing
Entrepreneurship and Communication
Principles of Accounting
Strategy, Governance and Ethics
(iv) Exemptions in CCP
Entrepreneurship and Communication
Economics
Principles of Accounting
Public Finance and Taxation
Financial Management
Management Information Systems
Quantitative Analysis
Strategy, Governance and Ethics
(e) CCP graduates
(i) Exemptions in CPA
Financial Accounting
Commercial Law
Entrepreneurship and Communication
Economics
Public Finance and Taxation
Company Law
Financial Management
Management Information Systems
Quantitative Analysis
Strategy, Governance and Ethics
(ii) Exemptions in CS
Commercial Law
Business Communication
Economics
Principles of Accounting
Public Finance and Taxation
Company Law
Financial Management
Principles and Practice of Management
Management Information Systems
(iii) Exemptions in CICT
Introduction to Computing
Entrepreneurship and Communication
Principles of Accounting
Strategy, Governance and Ethics
(iv) Exemptions in CIFA
Financial Accounting
Entrepreneurship and Communication
Economics
Public Finance and Taxation
Corporate Finance
Quantitative Analysis
Strategy, Governance and Ethics